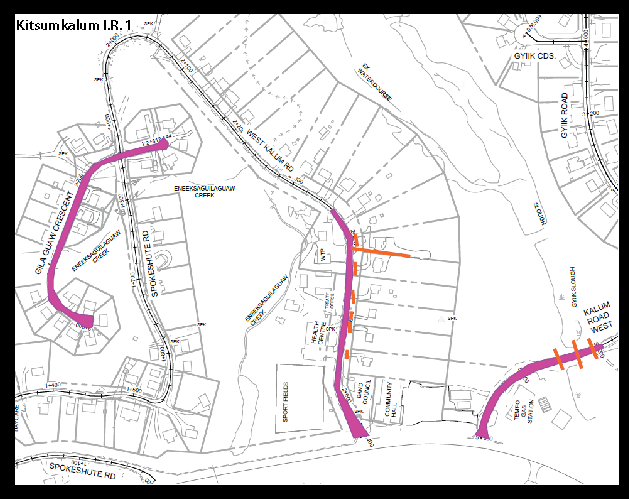 This week the contractor has been working on the following:
Replacement of the road gravels on West Kalum Rd. from the Water Treatment Plant to Highway 16 by the Band Office;
Replacement of the road gravels from Kalum Rd. West from Highway 16 towards the Slough; and
Installation of a new sanitary sewer main from the Water Treatment Plant across West Kalum Rd.
They will continue to work on these items this week and early next week. The slough crossing works have been temporarily postponed due to high water levels in the slough. Once the water begins to draw down they will be able to continue with the works at the Slough.
Next week the contractor will work on the following:
Replacement of road gravels on Gila Guaw and Spokeshute Crescent;
Replacement of road gravels on Kalum Rd. West; and
Culvert Improvements at the Slough Crossing (Weather Permitting).
The contractor will also have a grader on site next week to help with shaping of Spokeshute Rd. This piece of machinery will be working along the entire length of Spokeshute Rd.
For community access, the Spokeshute Road entrance off the highway may be the quickest way to get through the community. The entrance by the Band Office is open but the road will be down to one (1) lane in spots as the contractor works in the area by the WTP. The road will be accessible to local traffic for anyone needing to get to the health centre, school, etc. The contractor will make sure that school buses etc. are able to get the school while they work in the area.
Flaggers will also be stationed by the Tempo Gas Bar as the contractor continues with the road and slough works. Travellers through this area should expect short delays as the contractor works.