Hello Kitsumkalum Community,
As many of you are aware, Emergency Management BC (EMBC) is predicting high water levels within the next week, which poses an increased risk to our community. This week, we are experiencing warmer weather, followed by intensified amounts of rain. 
Please know, Kitsumkalum Emergency Management is closely observing these changing conditions and has equipment and trained personnel on standby in preparedness to the forecasted flood potential. Please do not hesitate to reach out, if you have direct concerns – as always, if you or a loved one is in danger, dial 911.
In the case flooding is imminent, you will receive a broadcasted emergency alert with directions on what to do next. Having a suitcase packed with emergency items (medications, food supplements and clothing) in the case of evacuation is advised. Having your cell phones charged so that you are made aware of any emergency is encouraged as we navigate the posed flood potential.
Thank you for being proactive as we seek to ensure overall safety for our community.
Sincerely,
Joel Brousson
Emergency Program Coordinator
Kitsumkalum Band
Phone: 778.702.1200 Ext # 602
Cell: 250.631.9511
Email: jbrousson(at)kitsumkalum(d0t)com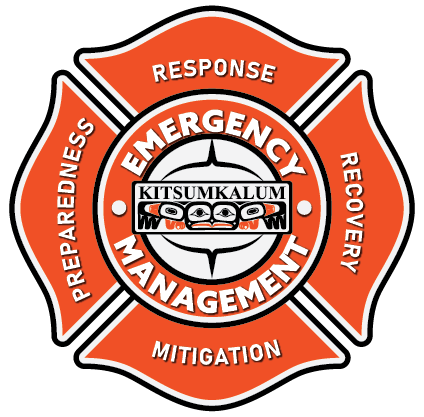 Desire to Serve, Ability to Perform, Courage to Act