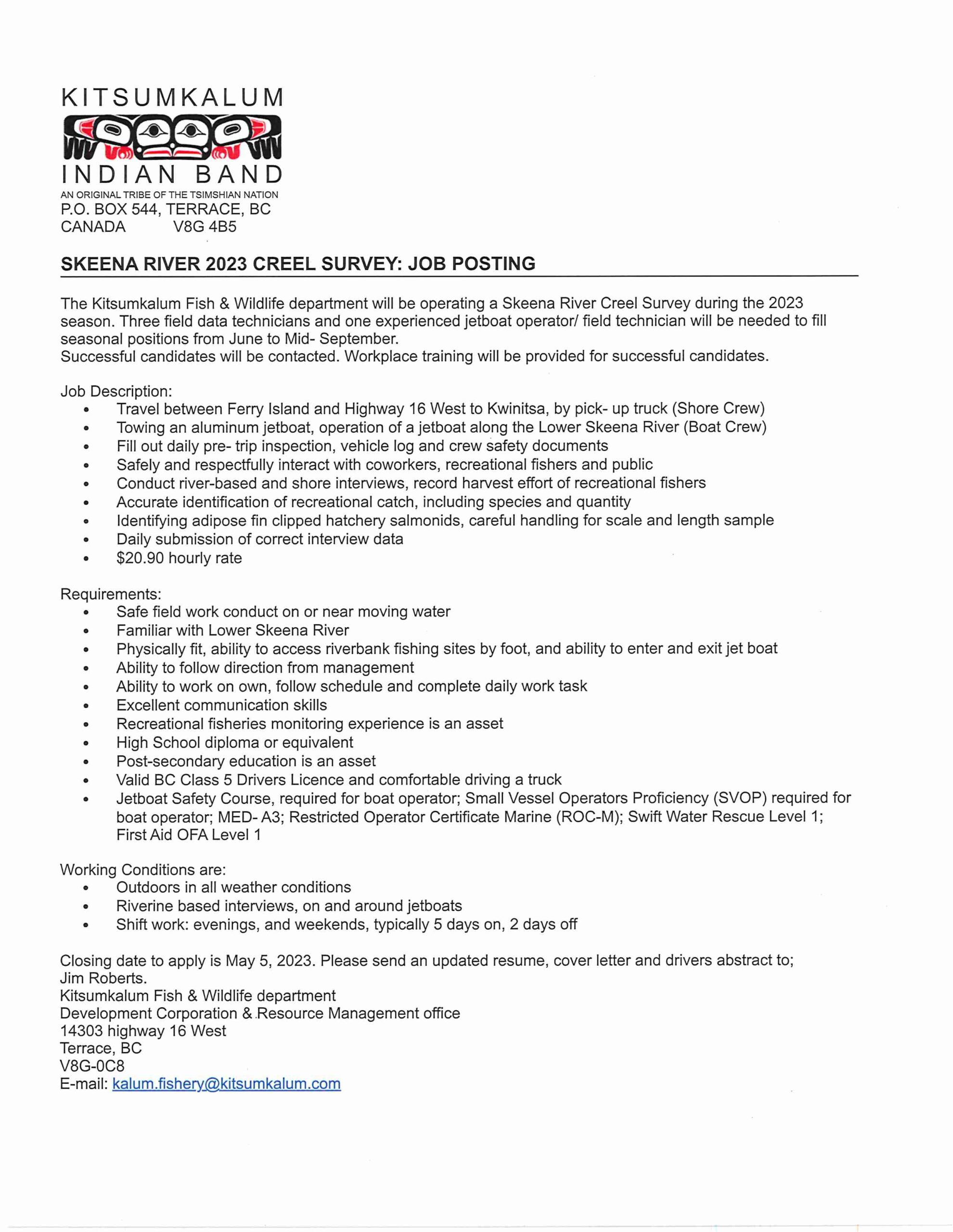 The Kitsumkalum Fish & Wildlife department will be operating a Skeena River Creel Survey during the 2023
season. Three field data technicians and one experienced jetboat operator/ field technician will be needed to fill
seasonal positions from June to Mid- September.

Successful candidates will be contacted. Workplace training will be provided for successful candidates.
Job Description:
Travel between Ferry Island and Highway 16 West to Kwinitsa, by pick- up truck (Shore Crew)
Towing an aluminum jetboat, operation of a jetboat along the Lower Skeena River (Boat Crew)
Fill out daily pre- trip inspection, vehicle log and crew safety documents
Safely and respectfully interact with coworkers, recreational fishers and public
Conduct river-based and shore interviews, record harvest effort of recreational fishers
Accurate identification of recreational catch, including species and quantity
Identifying adipose fin clipped hatchery salmonids, careful handling for scale and length sample
Daily submission of correct interview data
$20.90 hourly rate
Requirements:
Safe field work conduct on or near moving water
Familiar with Lower Skeena River
Physically fit, ability to access riverbank fishing sites by foot, and ability to enter and exit jet boat
Ability to follow direction from management
Ability to work on own, follow schedule and complete daily work task
Excellent communication skills
Recreational fisheries monitoring experience is an asset
High School diploma or equivalent
Post-secondary education is an asset
Valid BC Class 5 Drivers Licence and comfortable driving a truck
Jetboat Safety Course, required for boat operator; Small Vessel Operators Proficiency (SVOP) required for
boat operator; MED- A3; Restricted Operator Certificate Marine (ROC-M); Swift Water Rescue Level 1;
First Aid OFA Level 1
Working Conditions are:
Outdoors in all weather conditions
Riverine based interviews, on and around jetboats
Shift work: evenings, and weekends, typically 5 days on, 2 days off
Closing date to apply is May 5, 2023. Please send an updated resume, cover letter and drivers abstract to;
Jim Roberts.
Kitsumkalum Fish & Wildlife department
Development Corporation & Resource Management office
14303 highway 16 West
Terrace, BC V8G-0C8
E-mail: kalum.fishery@kitsumkalum.com