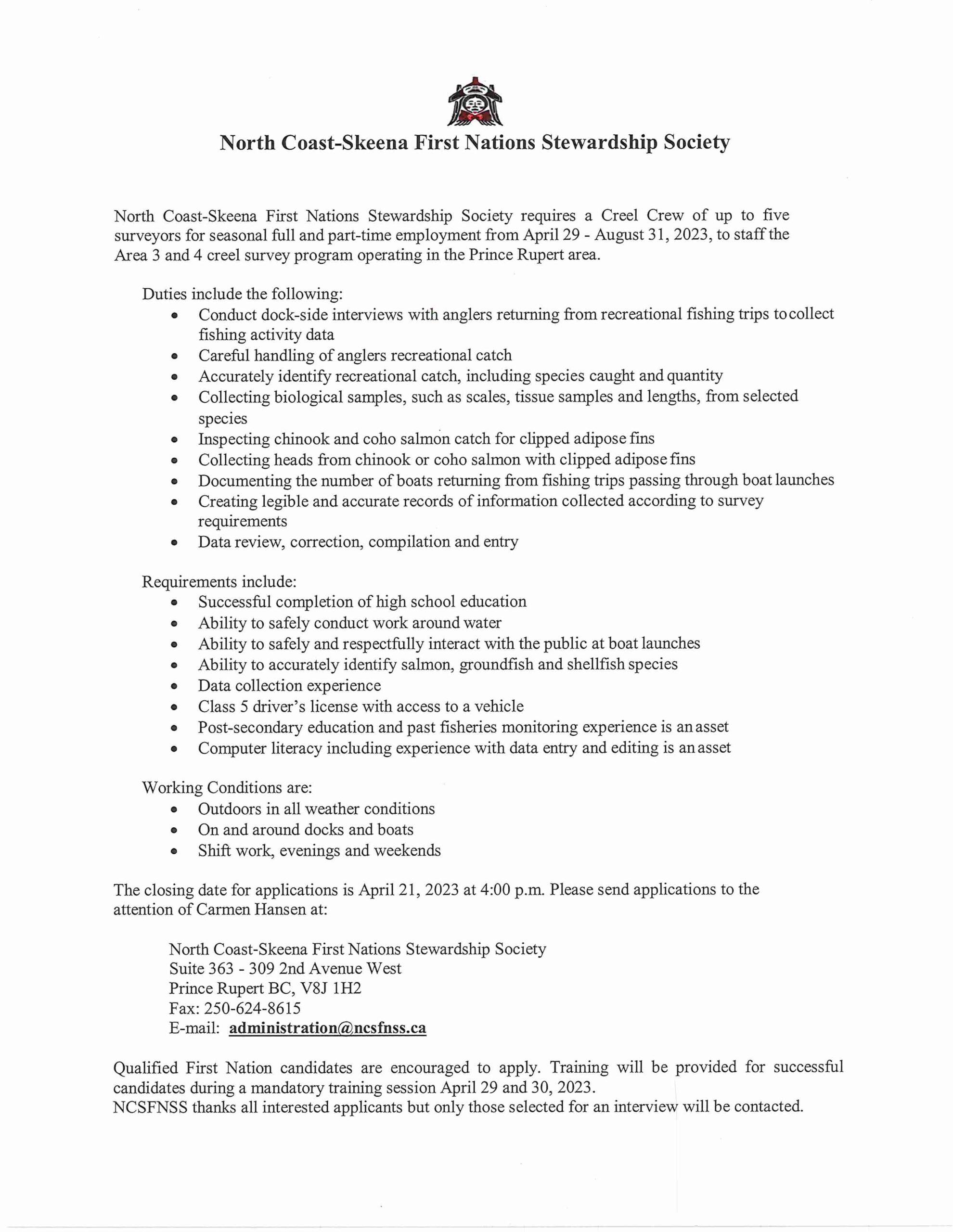 North Coast-Skeena First Nations Stewardship Society requires a Creel Crew of up to five surveyors for seasonal full and part-time employment from April 29 – August 31, 2023, to staff the Area 3 and 4 creel survey program operating in the Prince Rupert area.

Duties include the following:
• Conduct dock-side interviews with anglers returning from recreational fishing trips to collect
fishing activity data
• Careful handling of anglers recreational catch
• Accurately identify recreational catch, including species caught and quantity
• Collecting biological samples, such as scales, tissue samples and lengths, from selected
species
• Inspecting chinook and coho salmon catch for clipped adipose fins
• Collecting heads from chinook or coho salmon with clipped adipose fins
• Documenting the number of boats returning from fishing trips passing through boat launches
• Creating legible and accurate records of information collected according to survey
requirements
• Data review, correction, compilation and entry

Requirements include:
• Successful completion of high school education
• Ability to safely conduct work around water
• Ability to safely and respectfully interact with the public at boat launches
• Ability to accurately identify salmon, groundfish and shellfish species
• Data collection experience
• Class 5 driver's license with access to a vehicle
• Post-secondary education and past fisheries monitoring experience is an asset
• Computer literacy including experience with data entry and editing is an asset

Working Conditions are:
• Outdoors in all weather conditions
• On and around docks and boats
• Shift work, evenings and weekends

The closing date for applications is April 21, 2023 at 4:00 p.m.
Please send applications to the attention of Carmen Hansen at:
North Coast‐Skeena First Nations Stewardship Society
Suite 363 – 309 2nd Avenue West
Prince Rupert BC, V8J 1H2
Fax: 250‐624‐8615

E-mail: administration@ncsfnss.ca
Qualified First Nation candidates are encouraged to apply. Training will be provided for successful candidates during a mandatory training session April 29 and 30, 2023. NCSFNSS thanks all interested applicants but only those selected for an interview will be contacted.