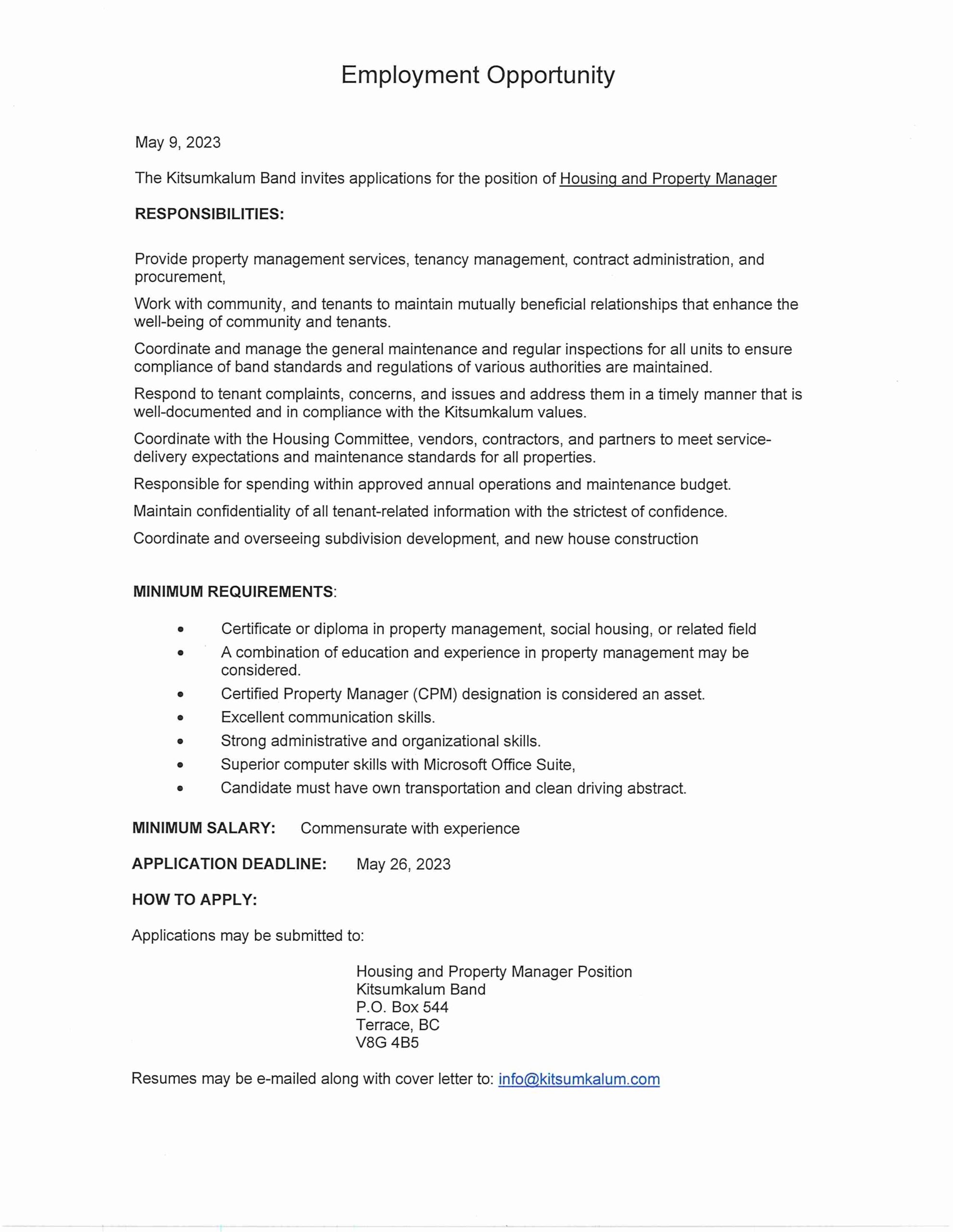 May 9, 2023
The Kitsumkalum Band invites applications for the position of Housing and Property Manager
RESPONSIBILITIES:
Provide property management services, tenancy management, contract administration, and procurement,
Work with community, and tenants to maintain mutually beneficial relationships that enhance the well-being of community and tenants.
Coordinate and manage the general maintenance and regular inspections for all units to ensure compliance of band standards and regulations of various authorities are maintained.
Respond to tenant complaints, concerns, and issues and address them in a timely manner that is well-documented and in compliance with the Kitsumkalum values.
Coordinate with the Housing Committee, vendors, contractors, and partners to meet service-delivery expectations and maintenance standards for all properties.
Responsible for spending within approved annual operations and maintenance budget.
Maintain confidentiality of all tenant-related information with the strictest of confidence.
Coordinate and overseeing subdivision development, and new house construction
MINIMUM REQUIREMENTS:
Certificate or diploma in property management, social housing, or related field
A combination of education and experience in property management may be considered.
Certified Property Manager (CPM) designation is considered an asset.
Excellent communication skills.
Strong administrative and organizational skills.
Superior computer skills with Microsoft Office Suite,
Candidate must have own transportation and clean driving abstract.
MINIMUM SALARY: Commensurate with experience
APPLICATION DEADLINE: May 26, 2023
HOW TO APPLY:
Applications may be submitted to:
Housing and Property Manager Position
Kitsumkalum Band
P.O. Box 544
Terrace, BC
 V8G 4B5
Resumes may be e-mailed along with cover letter to: info@kitsumkalum.com