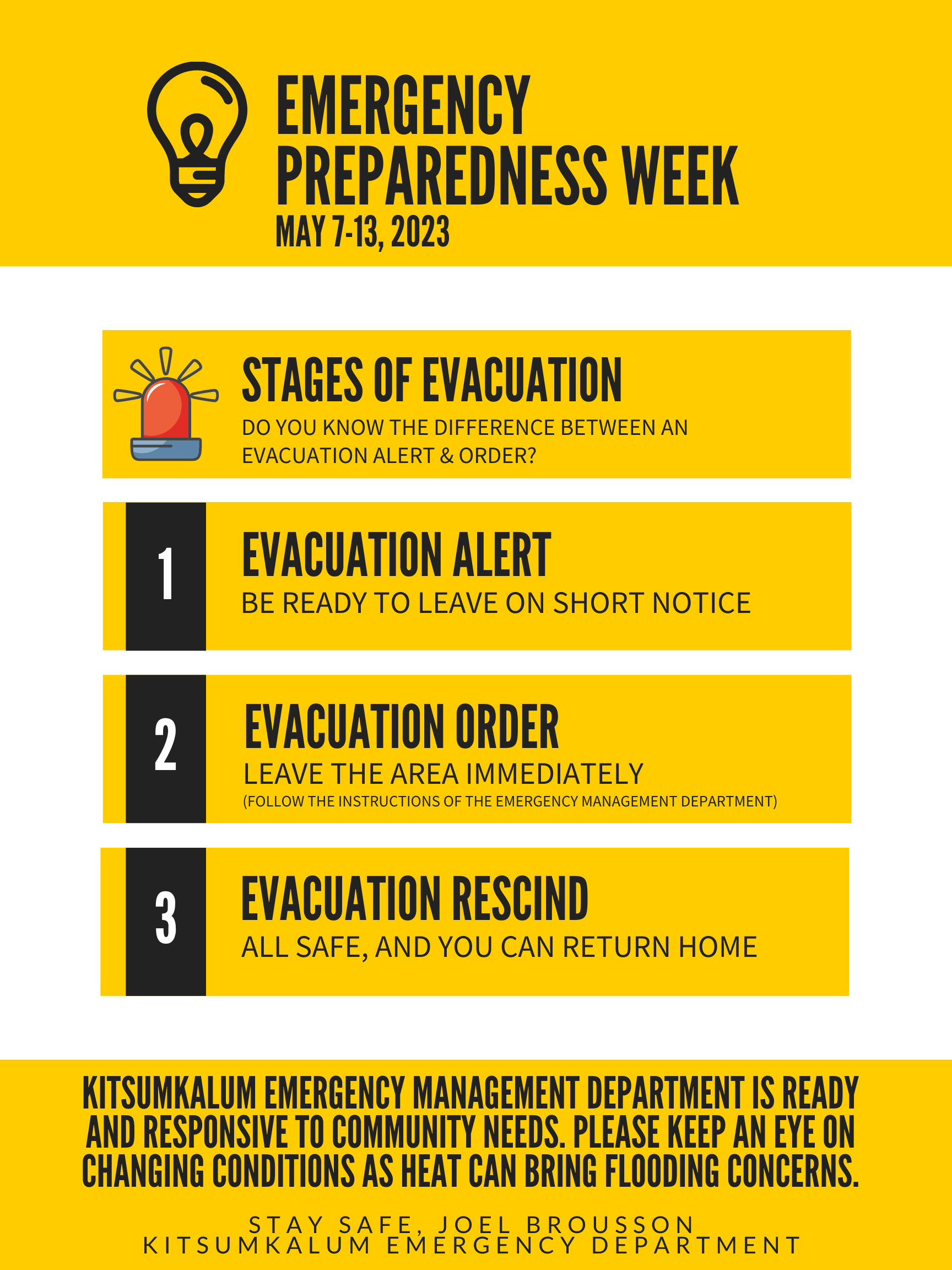 As many of you are looking forward to the heat this coming weekend/week, I want to ensure we are all on the same page regarding emergency preparedness.
Evacuation terms to know
Depending on the severity of the situation, an Evacuation Alert or Order may be issued. It's important to understand the difference and to always follow the advice and direction of your local authorities.
Evacuation Alert: Be ready to leave on short notice
Evacuation Order: You are at risk. Leave the area immediately
(Follow the instructions of the emergency management department)
Evacuation Rescinded: All is currently safe and you can return home
Flood evacuee guidance
If flooding is imminent but you have not yet been instructed to evacuate, follow these tips:
Monitor local radio stations, television news and social media for the latest information from your local authorities on sandbagging stations, possible evacuation procedures and routes
If a flood warning is in effect, shut off electricity to areas that are at risk of flooding and move small appliances, electronics and smaller furniture to upper floors or areas not likely to be affected
If an Evacuation Alert is in place, be ready to leave on short notice. Take the following steps:
Make sure vehicles are parked away from streams and waterways
Remove toxic substances such as pesticides and insecticides from the flood area to prevent pollution
Do not attempt to shut off electricity if any water is present
Use sandbags to block floor drains and toilets to prevent sewage back-up
If an Evacuation Order is in place, you are at risk and must leave immediately. Follow all directions from officials and evacuate using the route(s) they've identified. Heed the following advice as you evacuate:
Do not attempt to cross rivers or flowing streams
Do not drive or walk across flooded roads – 6 inches of rushing water can knock an adult off their feet; 2 feet of water can carry away most vehicles – including trucks and SUVs
If your car begins to flood, abandon it quickly and head to higher ground
Risks and dangers of not evacuating
Receiving an Evacuation Order can be an emotional experience. You may be reluctant to leave your home and community.
However, choosing to remain in an area that is under an Evacuation Order puts yourself, your family, and first responders in danger:
Evacuation routes can change or become impassible
Services, utilities and businesses that you rely on daily may be shut down
Help may not be able to reach an evacuated area because of a risk to their own safety or access is blocked
In other jurisdictions, fatalities have occurred when people chose to remain behind or waited too long to leave.
For example, according to a report from Australia's Bushfire and Natural Hazards Cooperative Research Centre, 31% of the 552 wildfire-related fatalities in that country from 1956 to 2008 were the result of people evacuating too late after an evacuation order was issued. Another 26% of the deaths were related to people attempting to defend properties against an advancing wildfire.
If you're sick or have mobility concerns
If you receive an Evacuation Order and are sick or have mobility concerns:
Tell the person that delivers the evacuation order
If possible evacuate by your own vehicle
If you're feeling ill, maintain physical distance wherever possible
If you're concerned about COVID-19, speak to a responder at a reception centre. Always follow guidance from your local health authority
Kitsumkalum Emergency Management Department is ready and responsive to community needs. Please keep an eye on changing conditions as heat can bring flooding concerns.
Stay safe,
Joel Brousson 
Kitsumkalum Emergency Management Department
E: jbrousson@kitsumkalum.com
C: 250.631.9511
Desire to Serve, Ability to Perform, Courage to Act