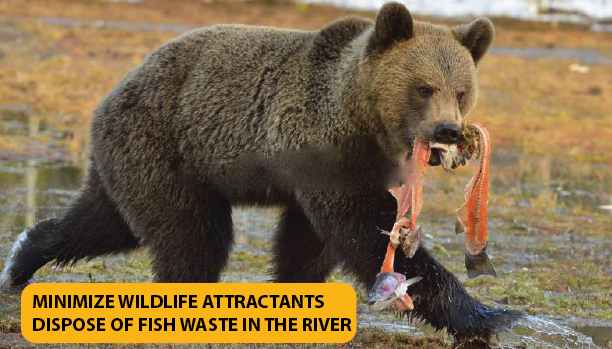 RE: Dumping Fish Guts and Garbage
Please do not dump fish or fish waste on land. The decomposing fish and fish waste will attract wildlife, such as bears, wolves, and other predators.
The Kitsumkalum Fish & Wildlife Department has received reports this summer, of fish and fish waste with plastic containers dumped close to the Kalum Reserve. These observations were on the West Kalum Forest Service Road (Old Nass Road). The dumping of fish and fish waste on land close to the reserve, can attract wildlife to the reserve. It is also illegal to dump garbage in a non-designated land fill sites.
You may dump your fish and fish waste in the river, with-out plastics, or containers of any type.
If you observe illegal dumping of garbage, report to:
RAPP (Report all poachers and Polluters). 1-877-952-7277
If you have any questions or concerns, please contact:
Kitsumkalum Fish & Wildlife Department, Development Corporation and Resource Management Office
14303 Highway 16 West, Terrace, BC
250-635-5000
Thank you, Kitsumkalum Fish & Wildlife