Kitsumkalum 2019 Land Code Ratification Vote Results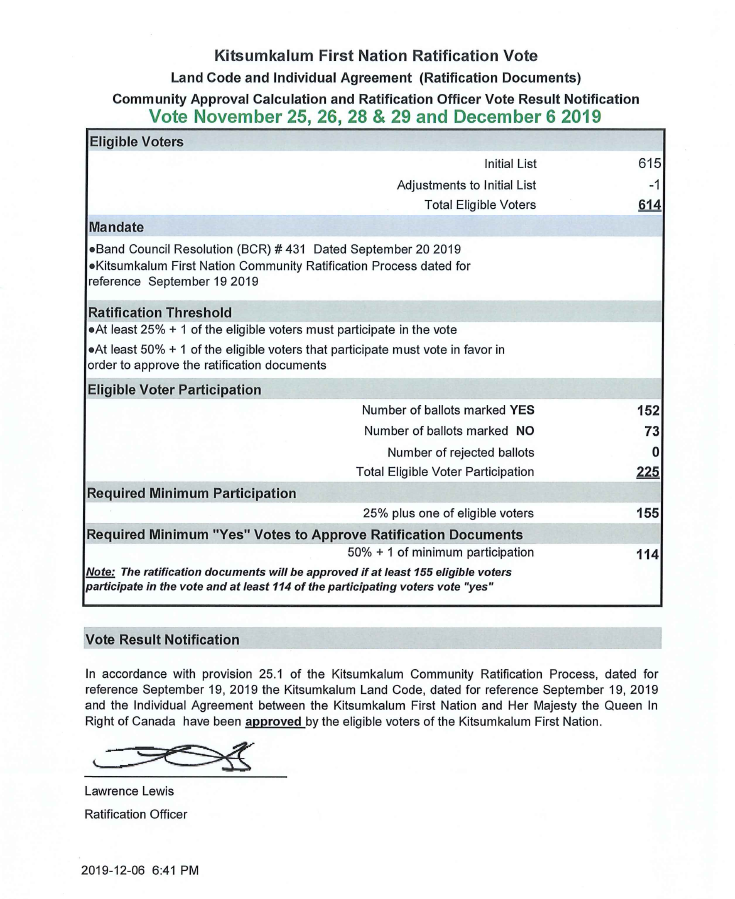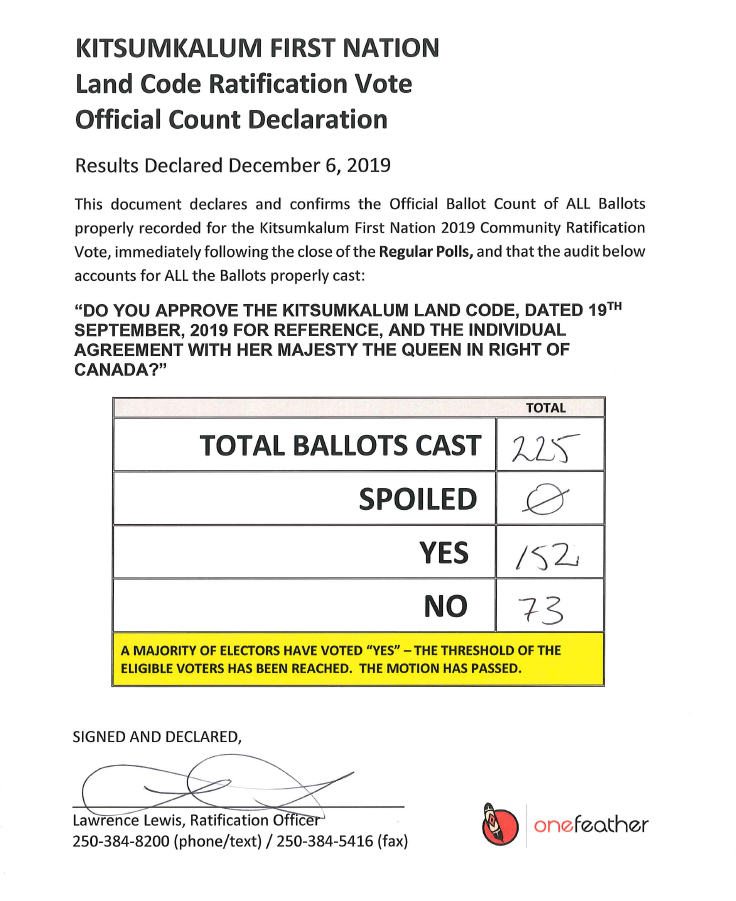 LAND CODE QUESTIONS & ANSWERS
Our team thanks band members for engaging with us, attending meetings, or calling to ask questions. In this document you'll find the follow up answers to questions asked.
WATCH THE OCT. 10 MEETING LIVE STREAMED VIDEO HERE
Kitsumkalum members need a password to watch the live stream.
Contact us through the band's Facebook page or email hbohn@kitsumkalum.com, confirming band membership to receive the password to view the live stream page.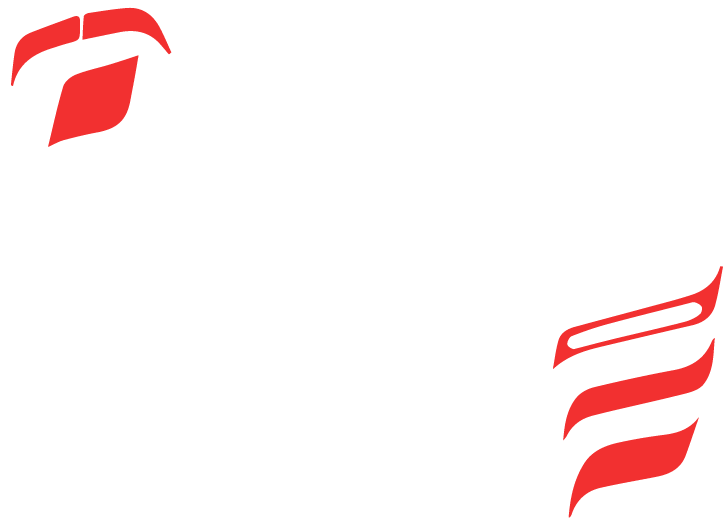 Your Land Code, Your Vote
Removing 44 Sections of the Indian Act
44 sections will no longer apply
View Sections

All members of Kitsumkalum who are at least 18 years of age, whether living off-reserve or on-reserve, have the right to vote on the Land Code and the Individual Agreement.
A short video on Land Code from Kitsumkalum community members. Posted August 7, 2019

GENERAL INFORMATION
LAND CODE
INDIVIDUAL AGREEMENT
COMMUNITY RATIFICATION PROCESS (CRP)
FIRST NATIONS LAND MANAGEMENT ACT
FRAMEWORK AGREEMENT ON FIRST NATION LAND MANAGEMENT
QUESTIONS CAN BE ASKED BY THE FOLLOWING WAYS:
1. In person - Talk to Mag at the Economic Development Office
2. Phone: 250.635.5000 ext. 107
3. Email: land.planner@kitsumkalum.com
4. Online form below on this website
Questions and Answers (FNLMRC)
Land Code Videos (Committee, FNLMRC)
Let's Talk Land Code (PAMPHLET)
44 Sections of the Indian Act that would be repealed
Notice of Kitsumkalum Community Ratification Vote - Date Posted: October 16, 2019
OneFeather Electronic Voting Process – Step by Step Guide for Voters- Date Posted: October 16, 2019
Kitsumkalum Mailed Voter Information Package **link updated Oct. 30, 2019**
Annexes Package: Annex A - G ---Click link to go to online folder containing documents **link updated Oct. 29, 2019**
Upcoming Land Code Events:
October 10th, 2019
Community Meeting
Kitsumkalum Hall
5:00 PM – 9:00 PM
October 17th, 2019
Community Meeting
Prince Rupert
Jim Ciccone Centre
5:00 PM – 8:00 PM
November 15 – 17, 2019
Kitsumkalum Annual General Meeting
Get in touch with a Land Management Committee Member or attend one of our meetings.
Get in touch with our Mag de Grace, Land Code Coordinator by:
Phone (250) 635 5000 (ext. 107)
Email land.planner@Kitsumkalum.com ; or,
Drop by the Kitsumkalum Economic Development Office.
This form is a quick way to get in touch with us in order to get that question answered!
We look forward to hearing from you!