[column parallax_bg="disabled" parallax_bg_inertia="-0.2″ extended="false" extended_padding="true" background_color="" background_image="https://kitsumkalum.com/wp-content/uploads/2014/09/bg-kitsumkalum57.png" background_repeat="no-repeat" background_position="center top" background_size="auto" background_attachment="fixed" hide_bg_lowres="" background_video="" vertical_padding_top="0″ vertical_padding_bottom="0″ more_link="" more_text="" left_border="transparent" class="" id="" title="" title_type="single" animation="none" width="1/1″ last="true"]
[column_1 width="1/1″ last="true" title="" title_type="single" animation="none" implicit="true"]
As with all Tsimshian peoples, Kalum's traditional society is matrilineal.
Accordingly,
individuals inherit titles and property as well as social status through their mother

– an arrangement that is fundamental to Tsimshian legal and social relationships.

The father's side of the family is important during the lifetime of a child, but that connection is not passed through the generations; the result is that the father belongs to a different matriline than his children.

The Waap (pl.: Wuwaap) refers to the house of a hereditary chief. It is directly attached to the land and resources over which it bears responsibility and ownership.

The Waap is the primary social organizational unit of the Tsimshian Nation, with individual leaders known as Sm'oogyet (chief), Sigidimnak (matriarchs), Galdm'agyax (speaker), and Lguwaalksis (next in line chief). Sm'oogyet hold the ultimate responsibilities for managing the resources and property of the Waap – stewards who are bound to manage and protect the property and its resources.

Waap resources also include both material and non-material property such as names, titles, dances, songs, and traditional stories (adaawx) that carry status within the ayaawx – the body of Tsimshian Law – as a "true telling" of history.

Material resources include the laxyuup, which refers specifically to territory – the village sites, hunting, fishing and other harvesting and picking sites that provide life's necessities and comforts.

[/column_1]

[column_1 width="1/1″ last="true" title="" title_type="single" animation="none" implicit="true"]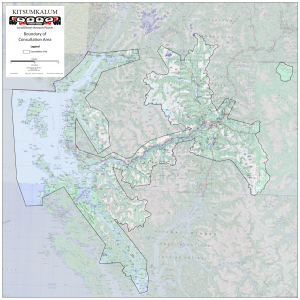 *All spellings of the words in our language, Sm'algyax, are standardized to the spellings in People of the Robin: the Tsimshian of Kitsumkalum by James Andrew McDonald (2003) in order to remain consistent with other writings on this website. Much of the cultural content on this website can be referenced from James Andrew McDonald (2003), People of the Robin: The Tsimshian of Kitsumkalum book, Kitsumkalum Social History Research Projects and Kitsumkalum elders.
[/column_1]
[/column]