Inform, Involve and Inspire.
The decision is yours.
These are key guiding principles we work to utilize in our community communication efforts – to facilitate in empowering our members to make an informed decision and to do this – your involvement is required. The decision on moving toward a Final Agreement lay in the hands of our people not our treaty negotiators. The Kitsumkalum Treaty team's role is to provide the best terms for our people, however the decision is yours. Get involved to get informed.
For more Information on our Treaty visit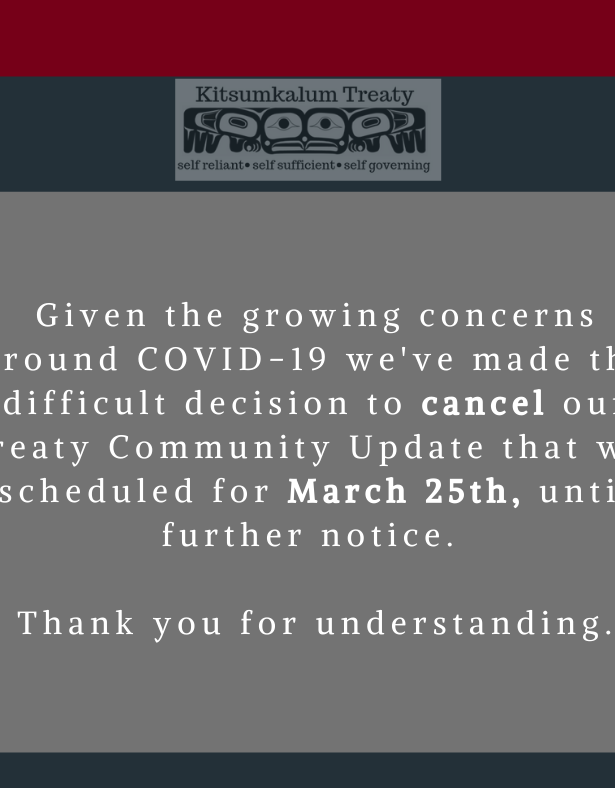 CANCELLED: Kitsumkalum Membership Treaty Update – Wednesday, March 25th, 2020, 5 pm at Kitsumkalum Hall
Contact Kitsumkalum Treaty Team
Toll Free: 1-888-635-1718
Alex Bolton
Chief Negotiator
250-635-1718
Gerald Wesley
Tsimshian First Nation Treaty Society
250.635.5511
Don Roberts
Treaty Director
250-635-5000
Allan Bolton
Negotiator, Treaty Coordinator & GIS Mapping
250-635-1718
Julie Bolton
Communications
250-635-1718
Jenneifer Bolton
Communications
250-635-1718
Lynn Bolton
Reception
250-635-1718
Mel Bevan
Consultant
250-635-1718
Joanne Bertsch
Vancouver Committee Rep.
George Nicholson
Legal Advisor
Kitsumkalum Treaty Office
250-635-1718
1-888-635-1718
P.O. Box 544
Terrace, BC
V8G 4B5