[column parallax_bg="disabled" parallax_bg_inertia="-0.2″ extended="false" extended_padding="true" background_color="" background_image="https://kitsumkalum.com/wp-content/uploads/2015/02/bg-kitsumkalum56.png" background_repeat="no-repeat" background_position="center top" background_size="auto" background_attachment="fixed" hide_bg_lowres="" background_video="" vertical_padding_top="0″ vertical_padding_bottom="0″ more_link="" more_text="" left_border="transparent" class="" id="" title="" title_type="single" animation="none" width="1/1″ last="true"]
[column_1 width="1/1″ last="true" title="" title_type="single" animation="none" implicit="true"]
For hundreds of years, the Kitsumkalum people have occupied many village sites throughout their laxyuup (Territory), down the Skeena River and along the coast.
Today, the Kitsumkalum Band Administration office is located outside the city of Terrace, where the Skeena and Kitsumkalum Rivers meet.
Our home combines both coastal and inland areas covering 5,941,000 hectares. Coastal areas begin at Portland Inlet in the north, extending south through Chatham sound, and including important sites around Edye Pass and down Grenville and Principe Channels.
[/column_1]
[column_1 width="1/1″ last="true" title="" title_type="single" implicit="true"]
[gmap address="" latitude="54.522925″ longitude="-128.667315″ zoom="15″ marker="true" html="Our home combines both coastal and inland areas covering 5,941,000 hectares. Coastal areas begin at Portland Inlet in the north, extending south through Chatham sound, and including important sites around Edye Pass and down Grenville and Principe Channels." popup="true" controls="" scrollwheel="true" maptype="HYBRID" hue="" width="0″ height="400″]
[/gmap]
[/column_1]
[column_1 width="1/1″ last="true" title="" title_type="single" animation="none" implicit="true"]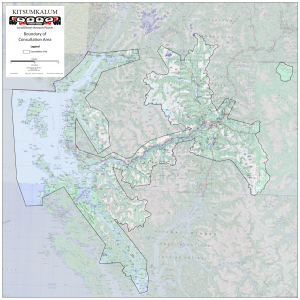 [/column_1]
[/column]
[column width="1/1″ last="true" title="" title_type="single" animation="none" implicit="true"]
[printicon align="right"]
[/column]