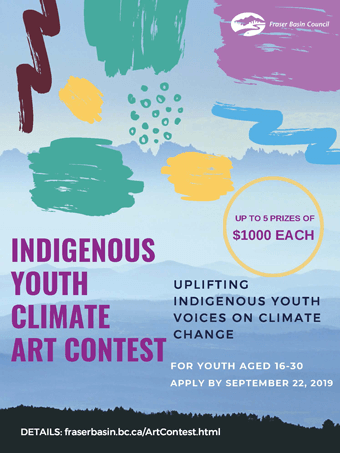 Uplifting Indigenous Youth Voices on Climate Change
Calling Indigenous Youth Artists! The Fraser Basin Council is seeking Indigenous youth who live in BC to create visual art about climate change. Artists are asked to tell a visual story about their perspectives on different aspects of BC's Changing climate in their medium of choice.
What themes can be explored in the art?
Artistic exploration of climate change may include one or more of the following themes:
Valuing and protecting the land and water
Connecting with and honouring Indigenous knowledge
Celebrating community and personal resilience
Understanding impacts to self, community and nations
Exploring key challenges
Self-determination
Innovative responses to climate change.
What type of artwork is invited?
Visual artworks in a variety of media, including photography, painting, drawing, sculpture, beadwork or other Indigenous visual arts are welcome.
Where will the artwork be shown?
Artwork from the winning submissions will be showcased in Canada's 2020 national assessment report on climate change titled Canada in a Changing Climate.
The national assessment is an initiative that assesses the impacts of climate change and the ways all levels of government are managing climate-related risks. The purpose of the assessment is to raise awareness of key issues and provide information to support sound decisions and actions.
This artwork will creatively enhance the report and promote better understanding, respect for, and representation of Indigenous youth perspectives in Canada's national assessment on climate change. (For more information on the national assessment visit the National Assessment website.)

Who is eligible?
The contest is open to youth of Indigenous ancestry (First Nations, Inuit and Métis) between the ages of 16 and 30 who reside in BC. Artists of all experience levels are encouraged to apply.
How can I participate?
If you are interested in participating, please apply through our ONLINE APPLICATION FORM. Please submit the following information

Biography (500 words maximum) that includes your full name, email address, community affiliation, description of art practice, past projects and any climate action experiences; and
An Art Proposal (500 words maximum) that describes your vision and concepts for highlighting your views on climate change.
What is the deadline for applications?
Applications are due by September 22, 2019.
What is the selection process?
The Fraser Basin Council will select up to five winning proposals from among the submissions received. Winners will be announced October 7.
Participants will invest their time and resources in creating artwork only after their proposals have been selected. This process ensures they will be paid for their time and talent.
What are the prizes?
Each winning participant will receive $1,000, upon completion of their artwork. All artwork must be submitted with high resolution digital images or files no later than November 29, 2019.  A contract will be created to outline this agreement.
Who owns the artwork?
Artists will retain ownership of and rights to their artwork. The only requirement of each participant is to make their artwork available for use in the national assessment report, as noted above, as well as the Fraser Basin Council websites. Possible opportunities for an exhibit of the art will be explored. An exhibit would be subject to funding availability and the permission of participating artists.
The Fraser Basin Council will not own the rights to the artwork and would need to seek advance approval of each artist before using that artist's work in any other way.